About Generations Clothing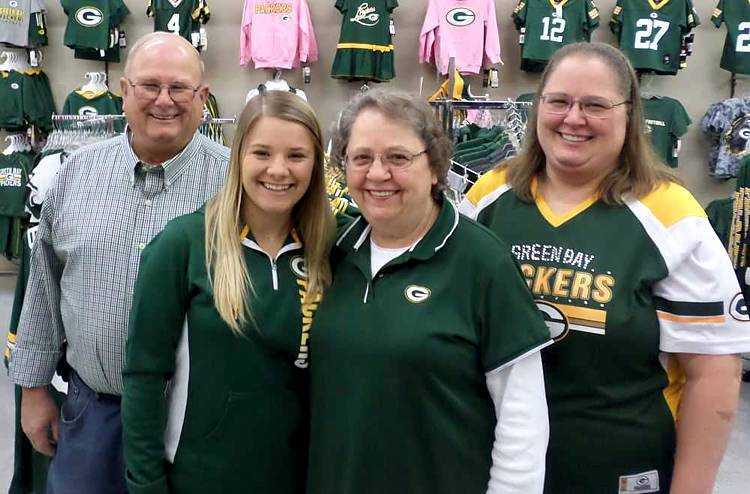 Generations Clothing is a family owned and operated clothing store in downtown Shawano, Wisconsin, a small city approximately 35 miles west of Green Bay, Wisconsin, home of the Green Bay Packers.
Generations opened May 1, 1996 and specializes in licensed sports apparel for adults and children.
In addition to tremendous support from our local community, visitors passing through or vacationing in the Shawano area of Northern Wisconsin, we are able to reach out with the aid of our website, www.generationsclothing.net, which has generated fantastic traffic and online sales for over 15 years.
Between the retail store and the website, we are very much a family that works – and plays – very hard together! Owners Lee and Emma Ebel, daugthers Emilee and Angela, sister Linda, and niece Jodi run the store.
Throughout our history, we have never lost sight of you, the customer, and the tremendous role you have played in our success! Our product selection has been driven by the things you ask for, and we'd like to offer you our thanks and continued commitment to serve you.
We process every order with great care and will do everything possible to make your shopping experience with us an enjoyable one.
Our website is updated daily, and we strive to make sure it is as accurate as possible.
Please don't hesitate to contact us with any questions or problems with your shopping experience, whether online or in our store. Also, feel free to recommend products you'd like to see us carry.
Return Policy
Whenever possible, please contact us before returning any items. If, for some reason, any of the items you ordered is not available, we will promptly contact you before we ship any of the order.